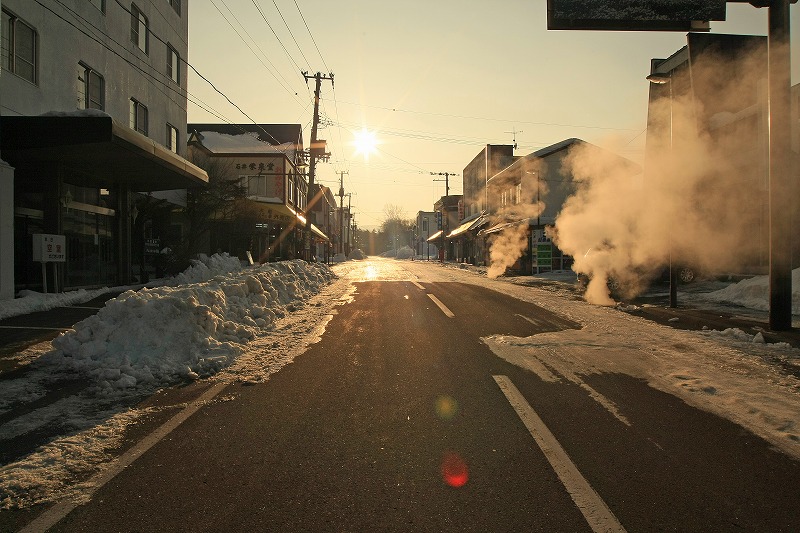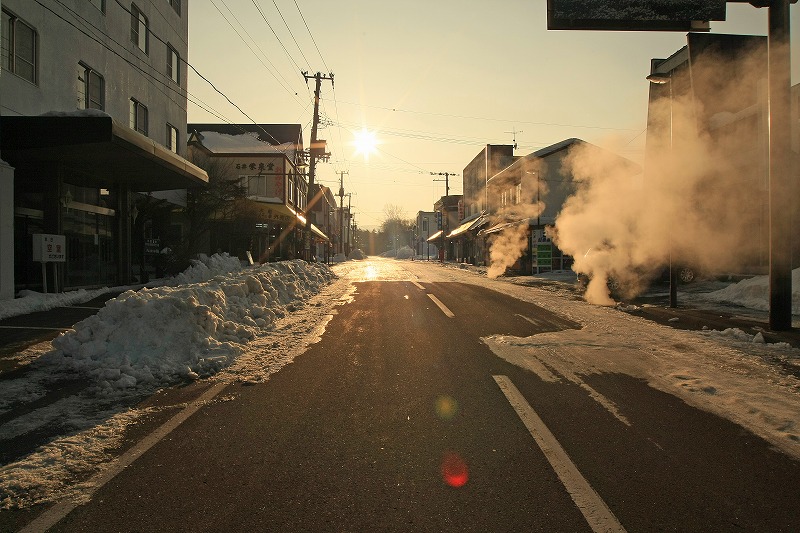 Onsen directly flow from the source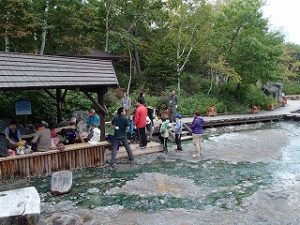 Kawayu Onsen is Onsen town surrounded by Lake Mashu, Lake Kussharo, Mt. Iwo and a rich forest. Quality of Onsen is acidic hydrogen sulfide Onsen directly flows from the source which is one of the well known Onsen in North. Onsen vapor which smells sulfur is rising in town. Each accommodation has different source of Onsen, and smell and touch of Onsen is slightly different. pH is 0,8~2,4 and rich Sulfate Ion and hot water.
Starts from Mt. Iwo
Kawayu Onsen was once called "Seseki-petu" in Ainu meaning Onsen River. Therefore, town was named Kawayu Onsen. Kawayu Onsen became famous by Mt. Iwo. Mining sulfur for match and gunpowder started and railway was set to deliver sulfur. The area surrounding Lake Akan became a candidate of National Park in 1931 and many tourists used railway started to visit beautiful nature and Onsen. Accommodation started to become large and Kawayu Onsen started to become town. After mining sulfur finished, Kawayu onsen as sulfur Onsen from Mt. Iwo became famous. Kawayu area was registered as Akan National Park in 1934 and became tourist spot with Onsen.
Kawayu Onsen is beautiful even in Winter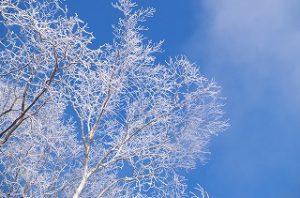 Temperature of Kawayu Onsen in Winter is always below 0 degre. When temperature gets below minus 10 degree, vapor in the air gets frozen and shining through the sun. This is called "diamonddust". There are the conditions diamonddust appears.【①below -15 degree ②fine and non windy day ③morning 】If you can find diamonddust in cold and silent morning, it makes a good memory for you.
Photo Gallery
Access
Access(Airport, JR & Bus)
From Kushiro/Kushiro Airport
Kushiro Airport ⇒ Kushiro Airport Shuttle Bus(About 45mins) ⇒ JR Kushiro station ⇒ JR Senmou Line(about 1hr 40mins) ⇒ JR Kawayu Onsen Station ⇒ Akan Bus(about 10mins) ⇒ Kawayu Onsen
From Abashiri/Memanbetsu Airport
Memanbetsu Airport ⇒ Memanbetsu Airport Shuttle Bus(about 30mins) ⇒ JR Abashiri Station ⇒ JR Senmou Line(about 45mins) ⇒ JR Shiretoko Shari Station ⇒ JR Senmou Line(about 45mins) ⇒ JR Kawayu Onsen Station ⇒ Akan Bus(about 10mins) ⇒ Kawayu Onsen
From Nakashibetsu Airport
Nakashibetsu Airport ⇒ Nakashibetsu Airport Shuttle Bus(about 30mins) ⇒ Nakashibetsu Bus Terminal ⇒ Akan Bus(about 1hr 30mins) ⇒ JR Shibecha Station ⇒ JR Senmou Line(about 30mins) ⇒ JR Kawayu Onsen Station ⇒ Akan Bus(about 10mins) ⇒ Kawayu Onsen
Access(by car)
Mapcode
731 802 075*35
From Kushiro/Kushiro Airport
Kushiro city ⇒ 391 Line(about 2hrs 30mins) ⇒ Kawayu Eco-Museum Center
Kushiro Airport ⇒ 53 Line(about 2hrs) ⇒ Kawayu Eco-Museum Center
From Abashiri/Memanbetsu Airport
Abasiri city ⇒ 244 Line・391 Line(about 1hr 30mins) ⇒ Kawayu Eco-Museum Center
Memanbetsu Airport ⇒ 243 Line・52 Line(about 1hr 30mins) ⇒ Kawayu Eco-Museum Center
From Nakashibetsu
Nakashibetsu Airport ⇒ 13 Line・243 Line・391 Line(about 1hr 30mins) ⇒ Kawayu Eco-Museum Center