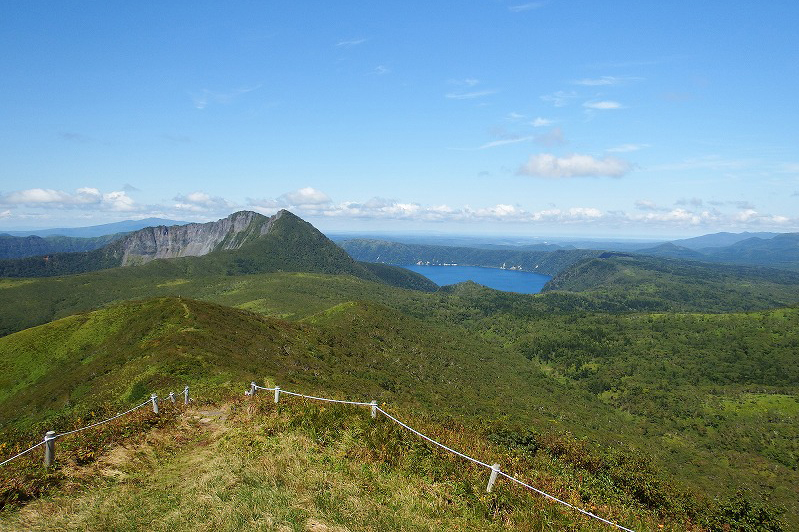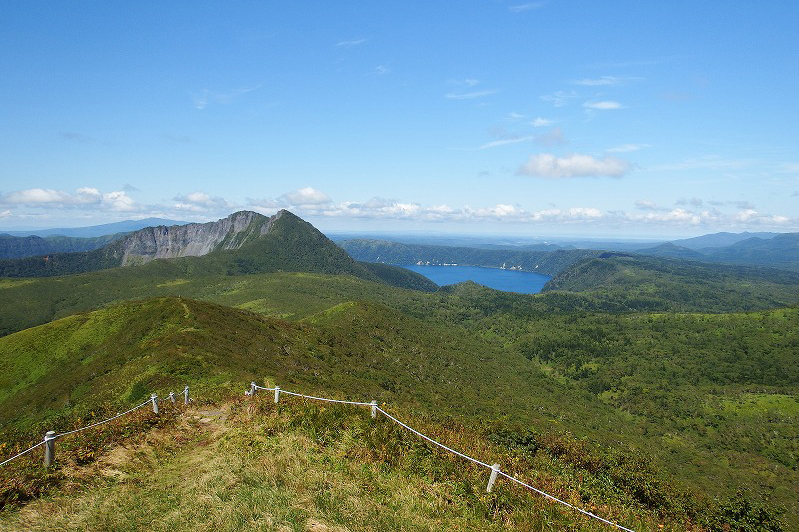 Mt. Nishibetsu climbing trail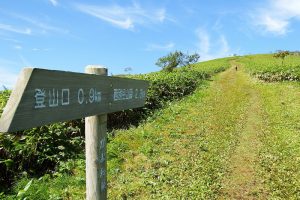 Driving from Teshikaga town 243 Line to 885 Line, you will find the sign of Mt. Nishibetsu climbing trail and follow the sign in the mountain road. You can start walking, after parking your car in front of mountain lodge. The trail starts from gentle slope. It then becomes steep hill called "patient hill". After being patient climbing hill for 20 minutes, you can see alpine plants and look down the hokkaido-like beautiful scenery. You can see Mt. Mashu and Lake Mashu, even Mt Oakan, Meakan and Shiretoko Ranges from the summit. If you can prepare 2 cars and friends, you can walk from Mt. Nishibetsu to Lake Mashu Viewpoint 1 through Mt. Mashu.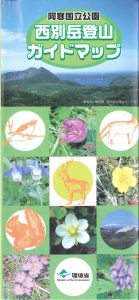 Self Guide Map outside(pdf)
Self Guide Map inside(pdf)
Mt,Mashu Map English(pdf)
Entrance – Summit Oneway 3.2㎞
Course Time About 1hour30minutes
Mt.Mashu summit 799.5m  Vertical dorp about 464m
*Moutain road towards entrance is closed from April to May. Please contact Ministry of Agriculture, Forestry and Fisheries
*About Opening mounatin Please contact Shibecha-town
Characteristics of Mt. Nishibetsu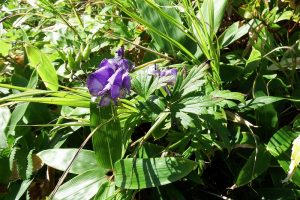 Mt Nishibetsu is not so highland about 800m high, but many kinds of alpine plants grow and you can enjoy them from Spring to Altumn comparing with Mt. Mokoro 1000m high. Mt. Nishibetsu is very special mountain around this area. Therefore, the ministry of the environment start protecting this mountain flora. Also, local group is removing non-native plants and managing trail.
About Climbing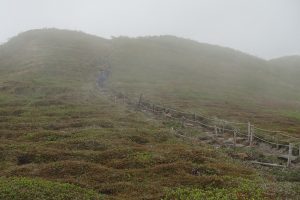 Mountain lodge at the entrance of the trail does have a toilet, but does not have water facility. Please prepare drink water and toilet paper in advance. Also, please use stock caps to protect rich plants and do not pick up any plants. If local group members are managing the trail, please say hello to them. Finally, please enjoy climbing mountain with well plan.
Photo Gallery
Access
Access(Airport, JR & Bus)
From Kawayu Eco-Museum Center
Kawayu Eco-Museum Center ⇒ Akan Bus(About 10minutes) ⇒ JRKawayu Onsen staion ⇒ JR Senmou Line(About 15minutes) ⇒ JRMashu Station
From Kushiro/Kushiro Airport
Kushiro Airport ⇒ Kushiro Airport Shuttle Bus(About 45minutes) ⇒ JR Kushiro Station ⇒ JR Senmou Line(About 1hour40minutes) ⇒ JR Mashu Staiton
From Abashiri/Memanbetsu Airport
Memanbetsu Airport ⇒ Memanbetsu Airport Shuttle Bus(About 30minutes) ⇒ JR Abashiri Station ⇒ JR Senmou Line(About 45minutes) ⇒ JR Shiretoko Shari Station ⇒ JR Senmou Line(About 45minutes) ⇒ JR Mashu Station
From Nakashibetsu Airport
Nakashibetsu Airport ⇒ Nakashibetsu Airport Shuttle Bus(About 30minutes) ⇒ Nakashibetsu Bus Terminal ⇒ Akan Bus(about 1hour 30minutes) ⇒ JR Shibecha Station ⇒ JR Senmou Line(About 30minutes) ⇒ JR Mashu Station
*No Public transportation to the entrance of Mt. Nishibetsu Trail. Please use taxi from JR Mashu station. JR Mashu Station is the nearest Station, but Taxi is not always waiting due to small station. Please book the guide tour or taxi before you come.
Access (by car)
MAPCODE
613 793 053
From Kawayu Eco-Museum Center
Kawayu Eco-Museum Center ⇒ 391 Line・243 Line・885 Line・Mountain road(about 1hour40minutes) ⇒ Entrance of Mt. Nishibetsu
From Kushiro/Kushiro Airport
Kushiro City ⇒ 391Line・243Line・885Line・Mountain Road(About 2hour30minutes) ⇒ Entrance of Mt. Nishibetsu
Kushiro Airport ⇒ 274Line・243Line・885Line・Mountain Road(About 2hour40minutes) ⇒ Entrance of Mt. Nishibetsu
From Abashiri/Memanbetsu Airport
Abashiri City ⇒ 244Line・391Line・1115Line・150Line・Mountain Road(About 2hour 30minutes) ⇒ Entrance of Mt. Nishibetsu
Memanbetsu Airport ⇒ 39Line・243Line・885Line・Mountain Road(About 2hour 30minutes) ⇒ Entrance of Mt. Nishibetsu
From Nakashibetsu Airport
Nakashibetsu Airport ⇒ 150Line・Mountain Road(About1hour30minutes) ⇒ Entrance of Mt. Nishibetsu