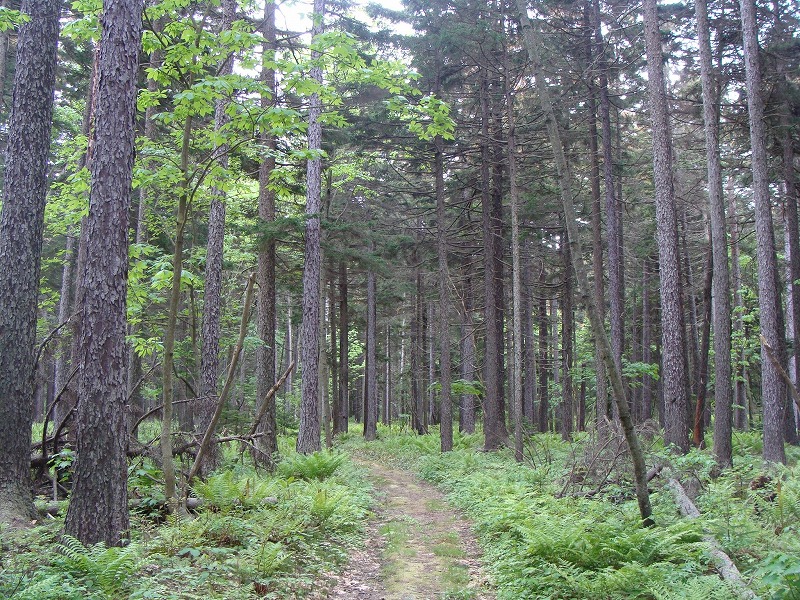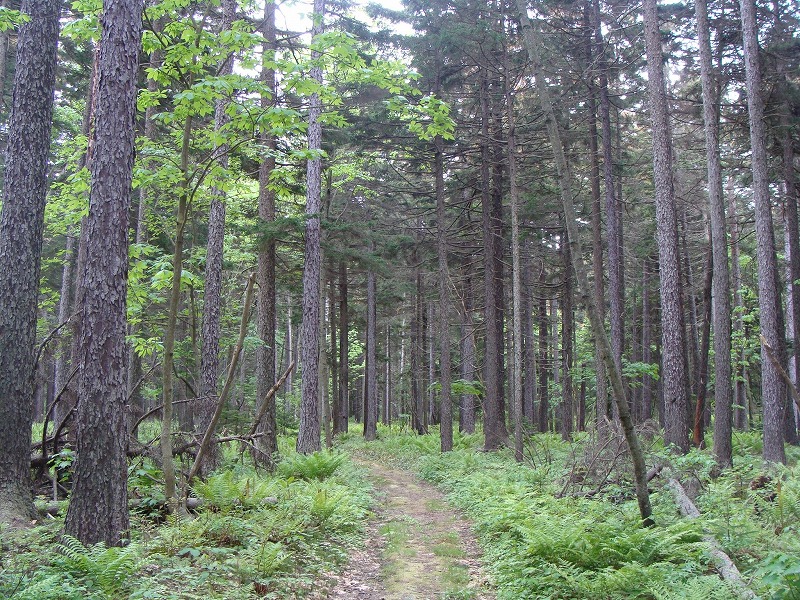 What is Sakhalin Spruce Forest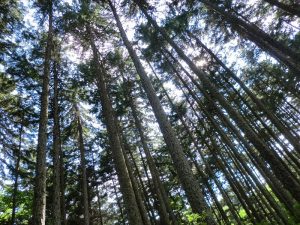 Sakhalin Spruce Forest is located at the back of Kawayu Eco-Museum Center. Sakhalin Spruce is little distributed in main-land Japan but mostly in Northern and Eastern side of Hokkaido. Sakhalin Spruce in Kawayu grows in lowland of 130-500m above sea level. As Spruce is one of tough tree to grow up as on the undernourished land which is formed by the pumice and erupted ash from the eruption of Mt. Mashu and Mt. Iwo Nature trail is set in the forest, and you can enjoy walking on the 2.5km trail around Kawayu Eco-Museum Center in defferent seasons.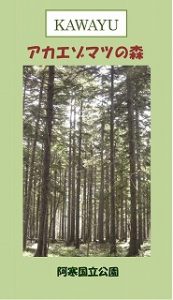 Selfguide Map(pdf)
Selfguide Map(pdf)
Distination Around About 2.5㎞
Time Oneway About 1hour
Difference of Sea Level 10m
Changes of the forest in different seasons
There are few seasons you can enjoy in Sakhalin Spruce Forest.
May… Shrab "Koyourakutsutsuji" blooms very little cute flower.
June…"Creeping Dogwood" starts blooming on the ground of the forest. "Labrador tea tree" also starts blooming at the same time. June is the best season around Kawayu Onsen.
October…Turned white colored leaves of "Koshiabura" in the forest is beautiful.
Feburary…It is the clodest season in Kawayu Onsen. Snow is on the leaf of the Spruce and it looks like a Christmas Tree.
Blowing wind in the quiet forest makes you feel calm.
Recommendation of staff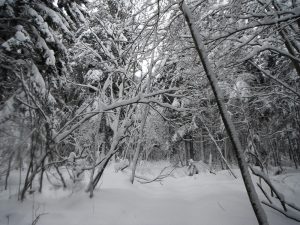 Winter is the best season to snowshoe in Sakhalin Spruce Forest. You can rent snowshoes in Kawayu Eco-Museum Center. You can see differnet kinds of animal tracks. Two walking trails are here. One is about 800m short corse and another is about 2.5km long corse. It takes about 1 hour to walk around the long corse which you can see the changing vegetation from coniferous forest to broadleaf forest lesten to bird's voice and dear call. There is also free short Gudied walk by EMC staff(about 20mins). As each staff may have different stories of the forest, it is a good idea to ask for every staff's guide. Please sign up at the counter if you would like to join Guided Walk.
Photo Gallery
Access
Access(Airport, JR & Bus)
From Kushiro/Kushiro Airport
Kushiro Airport ⇒ Kushiro Airport Shuttle Bus(About 45mins) ⇒ JR Kushiro station ⇒ JR Senmou Line(about 1hr 40mins) ⇒ JR Kawayu Onsen Station ⇒ Akan Bus(about 10mins) ⇒ Kawayu Eco-Museum Center
From Abashiri/Memanbetsu Airport
Memanbetsu Airport ⇒ Memanbetsu Airport Shuttle Bus(about 30mins) ⇒ JR Abashiri Station ⇒ JR Senmou Line(about 45mins) ⇒ JR Shiretoko Shari Station ⇒ JR Senmou Line(about 45mins) ⇒ JR Kawayu Onsen Station ⇒ Akan Bus(about 10mins) ⇒ Kawayu Eco-Museum Center
From Nakashibetsu Airport
Nakashibetsu Airport ⇒ Nakashibetsu Airport Shuttle Bus(about 30mins) ⇒ Nakashibetsu Bus Terminal ⇒ Akan Bus(about 1hr 30mins) ⇒ JR Shibecha Station ⇒ JR Senmou Line(about 30mins) ⇒ JR Kawayu Onsen Station ⇒ Akan Bus(about 10mins) ⇒ Kawayu Eco-Museum Center
Access(by car)
Mapcode
731 802 075*35
From Kushiro/Kushiro Airport
Kushiro city ⇒ 391 Line(about 2hrs 30mins) ⇒ Kawayu Eco-Museum Center
Kushiro Airport ⇒ 53 Line(about 2hrs) ⇒ Kawayu Eco-Museum Center
From Abashiri/Memanbetsu Airport
Abasiri city ⇒ 244 Line・391 Line(about 1hr 30mins) ⇒ Kawayu Eco-Museum Center
Memanbetsu Airport ⇒ 243 Line・52 Line(about 1hr 30mins) ⇒ Kawayu Eco-Museum Center
From Nakashibetsu
Nakashibetsu Airport ⇒ 13 Line・243 Line・391 Line(about 1hr 30mins) ⇒ Kawayu Eco-Museum Center