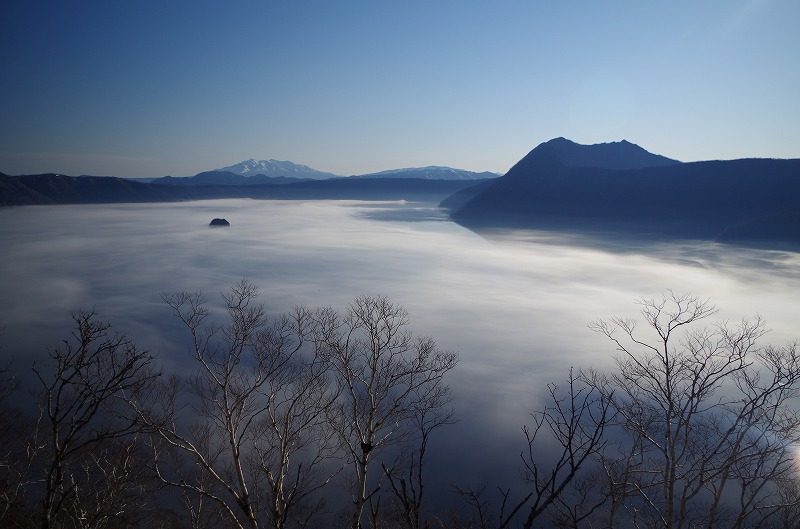 Good Sightseeing Spot Mashu Viewpoint 1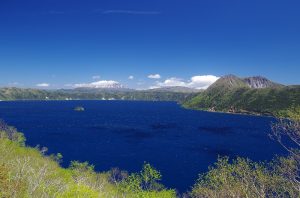 When you move from Teshikaga town to Lake Mashu, you will see Mashu Viewpoint 1. This Viewpoint is the most popular to see Lake Mashu. There is entrance of trekking trail to Mt. Mashu. You can see the movie in resthouse. As Lake Mashu is in special protected area and there is no artificial building and no light, you can see star very clearly. In winter, temperature gets below 0 degree and air becomes clear. You may forget time watching stars.
---
Lake Mashu is Caldera Lake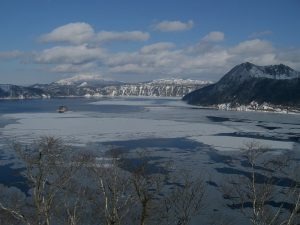 Surrounding of Lake Mashu is 20km, area is 19.2㎢, average depth is 145.9m, depth is 212m, and the 6th biggest caldera lake in Japan. Caldera is the dent formed after eruption. Lake stored in the dent is called Caldera Lake. Lake surface is 315m above sea level and lake bottom is 139m above sea level which is heigher than elevation of Kawayu Onsen. Clearance of Lake Mashu was once recorded 41.6m which is the most clearest Lake in the world in 1931. Constant Research of clearance of Lake Mashu was started in 2008. It is now known that the clearance changes about 15m within a year. Lake Mashu does not have a river. It is said that the source of water is from the raining. Hence no impurities is delivered into the Lake. *Caldera…meaning pot in Portuguese
---
Mist of Lake Mashu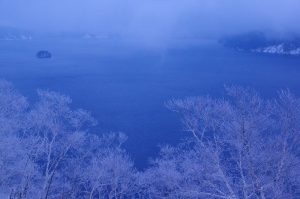 As Lake Mashu is well-known as "the mist of Lake Mashu", you cannot always see beautiful scenes.  Especially in July and August, the mist becomes dense. This mist surrounding Lake Mashu has different types by some reasons such as producing process, place and time. One of the famous type of the mist is populated fog. In summer, warm current and cold current meet at the Kushiro off shore and the mist is produced. The mist starts moving towards warm inland of Eastern Hokkaido. It then comes into Mashu caldera. You may find that lake surface which you could see hides in the mist in few minutes. However, when it is fine day, you can see Lake Mashu, Mt Mashu and any other beautiful scenery. When it is no wind, lake surface becomes like a mirror reflecting scenery of sky and Mt Mashu and showing real Mashu blue.
---
Photo Gallery
Access
Access(Airport, JR & Bus)
From Kawayu Eco-Museum Center
Kawayu Eco-Museum Center ⇒ Seasonal Ecopassport ⇒ Mashu Viewpoint 1
From Kushiro/Kushiro Airport
Kushiro Airport ⇒ Kushiro Airport Shuttle Bus(About 45min) ⇒ JR Kushiro Station ⇒ JR Senmou Line(Abuot 1hour40min) ⇒ JR Mashu Station ⇒ Seasonal Ecopassport ⇒ Mashu Viewpoint 1
From Abashiri/Memanbetsu Airport
Memanbetsu Airport ⇒ Memanbetsu Airport Shuttle Bus(About 30min) ⇒ JR Abashiri Station ⇒ JR Senmou Line(About 45min) ⇒ JR Shiretoko Shari Station ⇒ JR Senmou Line(About 45min) ⇒ JR Mashu Station ⇒ Seasonal Ecopassport ⇒ Mashu Viewpoint 1
From Nakashibetsu Airport
Nakashibetsu Airport ⇒ Nakashibetsu Airport Shuttle Bus(About 30min) ⇒ Nakashibetsu Bus Terminal ⇒ Akan Bus(About 1hour30min) ⇒ JR Shibecha Station ⇒ JR Senmou Line(About 30min) ⇒ JR Mashu Station ⇒ Seasonal Ecopassport ⇒ Mashu Viewpoint 1
Access (by car)
MAPCODE
613 781 311
From Kawayu Eco-Museum Center
Kawayu Eco-Museum Center ⇒ 52 Line(About 30min) ⇒ Mashu Viewpoint 1
From Kushiro/Kushiro Airport
Kushiro City ⇒ 391 Line(About 2hour 30min) ⇒ Mashu Viewpoint 1
Kushiro Airport ⇒ 53 Line(About 2hour) ⇒ Mashu Viewpoint 1
From Abashiri/Memanbetsu Airport
Abashiri City ⇒ 244Line・391Line(About 1hour30min) ⇒ Mashu Viewpoint 1
Memanbetsu Airport ⇒ 243Line・52Line(About 1hour30min) ⇒ Mashu Viewpoint 1
From Nakashibetsu Airport
Nakashibetsu Airport ⇒ 13Line・243Line・391Line(About 1hour30min) ⇒ Mashu Viewpoint 1