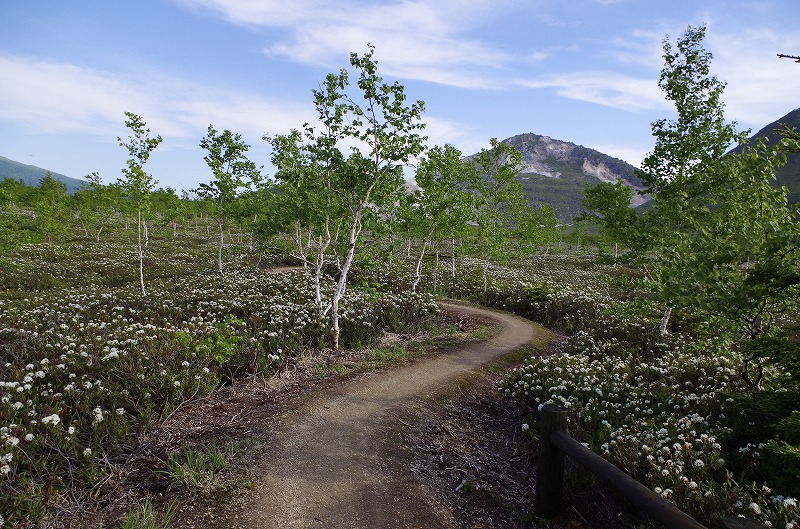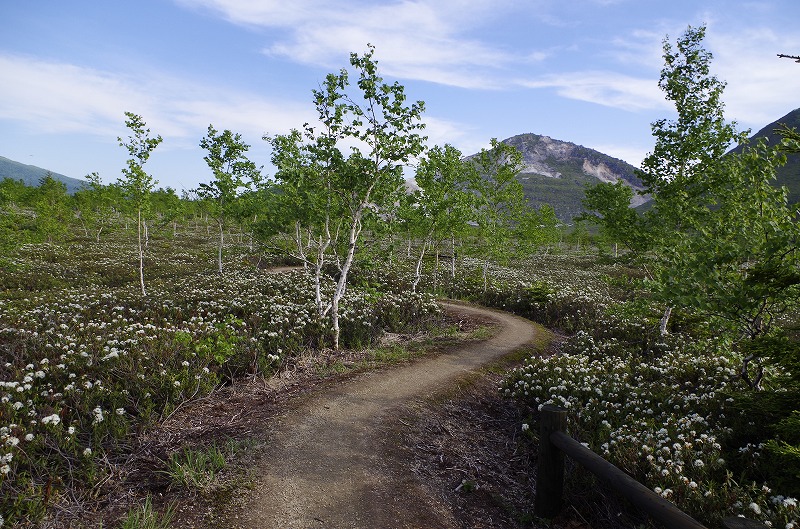 Distance and Time of Tsutsujigahara Nature Trail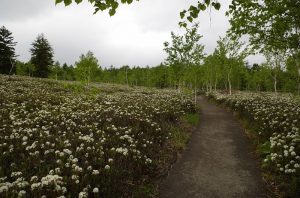 Tsutsujigahara Nature Trail is about 2.5 walking trail from Kawayu Onsen to Mt. Iwo. If you walk slowly watching nature around, it takes about 60 mins. As walking from Kawayu Onsen , you can see three mountains "Mt. Boushi", "Mt. Kabuto" and "Mt. Iwo" on the right hand side. There are almost no artificial things along the nature trail from Kawayu Onsen to Mt. Iwo. You can take a break at the two terraces set along the trail. Not only on right handside, you can also see the mountain rages which is somma of the Japanese most biggest Kussharo caldera and Mt. Shari over the somma on the left hand side. During 2.5km, the scenery changes so much!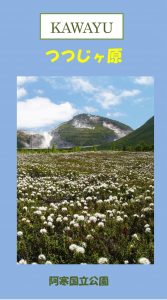 Self Guide Map inside(pdf)
Self Guide Map outside(pdf)
Distance: oneway about 2.5㎞
Time: oneway about 1 hour
Difference of elevation 40m
Vegetation of Tsutsujigahara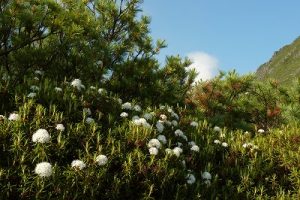 You can see different colors of the forest when looking at the aerial photo of the bottom of Mt. Iwo. This is because the habitat of each plant is isolated. It is thought that the vegetation from Mt. Iwo to Kawayu Onsen changes "Stone Pine Belt", "Labrador Tea Tree Belt", "Broadleaf Forest" to "Coniferous Forest" due to the volcanic activity of Mt. Iwo. Mt. Iwo has more than 1500 fumaroles emitting acidic volcanic gas including hydrogen sulfide having an effect on the soil. Tolerable plant to this acidic gas and severe environment like plpine plant characterizes ecosystem on such a lowland of about 150m above sea level. Tsutsujigahara is therefore a rare trail which you can see feel the changing of the vegetation and alpine plant easily.
Season we reccommend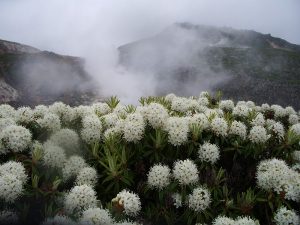 The best season of tsutsujigahara nature trail is in June and July! You can see full bloomed labrador tea tree spread around about 100ha and bloomed stone pine tree. The best day is around 20th June every year. The second best season is winter. If you drive along around Mt. Iwo in the early morning, you may sometimes see the beautiful ice rime on tree along the road.
Photo Gallery
Access
Access(Airport, JR & Bus)
From Kushiro/Kushiro Airport
Kushiro Airport ⇒ Kushiro Airport Shuttle Bus(About 45mins) ⇒ JR Kushiro station ⇒ JR Senmou Line(about 1hr 40mins) ⇒ JR Kawayu Onsen Station ⇒ Akan Bus(about 10mins) ⇒ Kawayu Eco-Museum Center
From Abashiri/Memanbetsu Airport
Memanbetsu Airport ⇒ Memanbetsu Airport Shuttle Bus(about 30mins) ⇒ JR Abashiri Station ⇒ JR Senmou Line(about 45mins) ⇒ JR Shiretoko Shari Station ⇒ JR Senmou Line(about 45mins) ⇒ JR Kawayu Onsen Station ⇒ Akan Bus(about 10mins) ⇒ Kawayu Eco-Museum Center
From Nakashibetsu Airport
Nakashibetsu Airport ⇒ Nakashibetsu Airport Shuttle Bus(about 30mins) ⇒ Nakashibetsu Bus Terminal ⇒ Akan Bus(about 1hr 30mins) ⇒ JR Shibecha Station ⇒ JR Senmou Line(about 30mins) ⇒ JR Kawayu Onsen Station ⇒ Akan Bus(about 10mins) ⇒ Kawayu Eco-Museum Center
Access(by car)
Mapcode
731 802 075*35
From Kushiro/Kushiro Airport
Kushiro city ⇒ 391 Line(about 2hrs 30mins) ⇒ Kawayu Eco-Museum Center
Kushiro Airport ⇒ 53 Line(about 2hrs) ⇒ Kawayu Eco-Museum Center
From Abashiri/Memanbetsu Airport
Abasiri city ⇒ 244 Line・391 Line(about 1hr 30mins) ⇒ Kawayu Eco-Museum Center
Memanbetsu Airport ⇒ 243 Line・52 Line(about 1hr 30mins) ⇒ Kawayu Eco-Museum Center
From Nakashibetsu
Nakashibetsu Airport ⇒ 13 Line・243 Line・391 Line(about 1hr 30mins) ⇒ Kawayu Eco-Museum Center